HARMONY GLASS Stained Glass Supplies View Cart

Phone Orders: (209)-532-2679


Home

New Items

Bevels
Rectangle & Square Bevels
Diamond & Triangle Bevels
Circle & Oval Bevels
House Bevels
Other Bevel Shapes
Blue Bevels
Green Bevels
Peach Bevels

Bevel Clusters
Action Bevel Clusters 6mm Pg 1

5mm Close-out 50% off
Action Bevel Clusters 5mm

Infinity Bevel Clusters Pg 1
Infinity Bevel Clusters Pg 2
Infinity Bevel Clusters Pg 3

Bevel King CH & C Series Clusters

Flower Bevel Clusters

Frame & Corner Clusters
Circular and Oval Frame Clusters

GST Bevel Clusters Pg 1
GST Bevel Clusters Pg 2
More Nature Bevel Clusters

HGC Bevel Clusters

Holiday Bevel Clusters

Glue Chip Bevel Clusters

Mika Bevel Clusters Pg 1
Mika Bevel Clusters Pg 2

Miscellaneous Small Clusters
Miscellaneous Medium Clusters

P Series Clusters Pg 1

Sports Clusters

Super Bevel Clusters

American Bevel Clusters Pg 1
American Bevel Clusters Pg 2
American Bevel Clusters Pg 3
American Bevel Clusters Pg 4

Thompson Bevel Clusters

Books
Page1
Page2
Page3
Page4
Page5
Page6
Page7
Page8
Aanraku Books
Fusing Books

Copper Foil

Chemicals

Fusing
Confetti System 96
Frit System 96
Noodles System 96
Bullseye Stringers coe 90
Bullseye Frit coe 90
Molds for Jewelry
Molds for Slumping & Draping
Jewelry Findings
Miscellaneous Fusing Supplies
Books
Microwave Kiln Clearance 50% Off!
System 96 Glass page 1
Bullseye Fusible Glass page 1
Dichroic Glass page 1

Glass
Clear Textures
Spectrum page 1
Spectrum page 2
Spectrum page 3
Wissmach English Muffle
Miscellaneous Glass
System 96 Glass page 1
Bullseye Fusible page 1
Dichroic Glass page 1

Jewels
Round Faceted
Rnd Double Faceted
Round Smooth
Square
Oval & Pointed Oval
Tear Drop
Rectangle
Swirly &Other Jewels
Mirror Backed
High Profile
Moon Jewels
Rondels

Lamp Patterns & Forms
Worden 7 inch Diameter
Worden 10 inch Diameter
Worden 11 inch Diameter
Worden 13 inch Diameter
Worden 16 inch Diameter Globe
Worden 16 inch Diameter Cone
Worden 18 inch Wisteria Shaped
Worden 18 inch Lotus Shaped
Worden 18 inch Modified Cone
Worden 19 inch Globe
Worden 20 inch Cone
Worden 20 inch Modified Cone
Worden 20 inch With Crown
Worden 22 inch
Worden 24 inch
Worden Pool Table

Lamp Hardware

Lead, Solder & Zinc

Miscellaneous

Night Lights &
Fan Lamps

Patterns
Terra pg 1
Terra pg 2
C. Kyle pg 1
C. Kyle pg 2
C. Kyle pg 3
C. Kyle pg 4
C. Kyle pg 5
C. Kyle pg 6
C. Kyle pg 7
C. Kyle pg 8
J. Miller pg 1
J. Miller pg 2
Aurora pg 1

Pattern CDs
Paned Expressions Pattern CDs

Tools
Misc. Tools
Glass Grinders
Soldering Irons

Order Blank
for mail-in orders

International Orders
Shipping Charges
Privacy Policy
Contact Info
FAQs








Shipping Charge $6.95 for all orders in the continental US!
Other addresses, please email us for shipping charges before ordering.

© Harmony Glass 1999 - 2016
Harmony Glass
Imported Single Glue Chip, Clear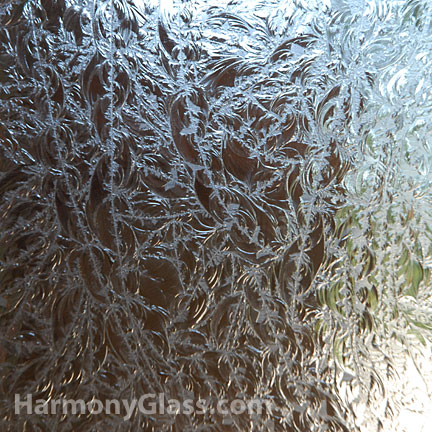 Glass Size: Approximately 8"x12"

Price: $3.15





This is an economical and popular glass. The creation of the pattern on the glass begins by sandblasting an entire sheet of clear glass.
Animal glue is then spread over the glass. As the glue dries, it pulls some of the glass off of the surface of the sheet, creating a random, feathery pattern.

Please note that we have a minimum glass order of 5 sheets. These 5 sheets can be any combination of glass. There is
no boxing charge for glass and there is no additional shipping charge for glass. Our same low flat rate shipping charge applies.



Back

© Harmony Glass